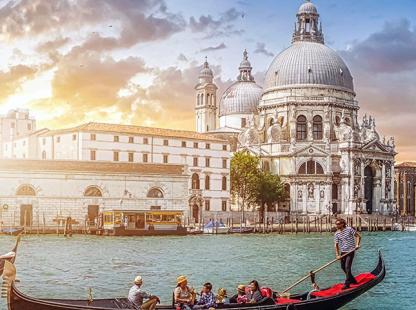 HCAD Study Abroad
Both our undergraduate and graduate students have benefited from the University's strong relationships with international institutions. 
In today's world, there is a growing demand for well-rounded and globally-oriented architects and designers. Students acquire a better understanding of an increasingly international environment through foreign study. In conjunction with their professional studies, students also develop cross-cultural communication skills and increase their fluency in a second language by studying and living in another country. Enhanced communication skills enable a graduating student to compete and excel in a multinational or multicultural business environment.
Summer Abroad Programs
Students spend six weeks in Newark at the start of the summer semester learning analytical techniques, familiarizing themselves with a project site, a specialized program, as well as the local conditions and culture for a design studio project abroad. This forms the local context that these students will explore more deeply and in person during the last half of the summer semester abroad. Hillier faculty guide and instruct the students through all aspects of this experience through structured summer course work Student may register for up to 12 credits in design studio, history, and advanced graphics. Students pay tuition to NJIT and a fee to cover travel costs including air fare, accommodations, bus tours and admissions. Assuming there is sufficient interest, NJIT students have several potential destinations from which to choose including:
Siena, Italy
The Siena Summer Studio is HCAD's premiere study abroad program. In 1993, NJIT signed an agreement of scientific and academic cooperation with the University of Siena in Italy to promote student exchange between the two universities. The focus of this program is the Siena summer study program through which HCAD students, graduate and undergraduate, spend six weeks in Siena as part of a 12-week program dedicated to the study of art and architectural history and urban development.
Vienna and the Wauchau Valley, Austria
Students learn about history, contemporary urban design, and architectural projects by visiting them in the metropolitan center of Vienna and the outlying historical Wauchau Valley. They learn about urban design architectural design processes and techniques, current challenges at the urban and architectural scale and architecture's relationship between city, digital culture, landscape and agriculture. They will learn about UNESCO world heritage sites and how to operate within an historic context. Students also learn and practice how to communicate architectural and urban design ideas effectively.
Gothenburg, Sweden
The Gothenburg design studio offers the students the opportunity to design a neighborhood within a complex, evolving, urban district. Students gain insight, skills, and knowledge that enable them to design better, safer, more equitable, resilient and sustainable buildings and communities. The site challenges them to consider the best land uses for an urban environment and the role architecture has to play in shaping community.  Considering Sweden and particularly Gothenburg's ambitious and measurable steps toward not only stopping, but even reversing, climate change provides students with knowledge and skills as well as a new frame through which to consider design decisions relative to environmental impact.
Fall and Spring Semester Study Abroad
In addition to summer offerings, NJIT Hillier College students may also take advantage of study abroad offerings during the regular academic year. Active institutional partners include:
Universitat Innsbruck, Austria
This exchange program is open to students studying Architecture in the fall or spring semesters. Consult with NJIT Professor Gernot Riether for information about Innsbruck's course offerings.