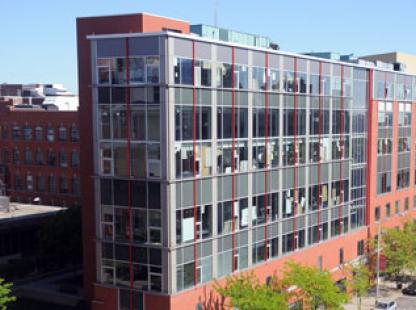 The College of Architecture and Design is a comprehensive Design School located in a comprehensive research university.
In addition to the university-wide Middle States Commission on Higher Education accreditation, CoAD programs are accredited by the following agencies:
Bachelor of Architecture (BArch) and Master's of Architecture (MArch) are accredited by NAAB,
Digital Design, Industrial Design and Interior Design programs under the School of Art + Design are accredited by NASAD,
The Interior Design program is also accredited by CIDA.
Architecture: NAAB Accreditation
The School of Architecture offers two first professional degree programs accredited by the National Architectural Accrediting Board (NAAB): the Bachelor of Architecture and Master of Architecture programs.
NAAB Conditions and Procedures
Career Development Information
ARE Pass Rates
Pass rates on the Architect Registration Exam (ARE) may be found here.
Accredited Programs
In the United States, most state registration boards require a degree from an accredited professional degree program as a prerequisite for licensure. The National Architectural Accrediting Board (NAAB), which is the sole agency authorized to accredit U.S. professional degree programs in architecture, recognizes three types of degrees: the Bachelor of Architecture, the Master of Architecture, and the Doctor of Architecture. A program may be granted a 6-year, 3-year, or 2-year term of accreditation, depending on the extent of its conformance with established educational standards.
Doctor of Architecture and Master of Architecture degree programs may consist of a pre-professional undergraduate degree and a professional graduate degree that, when earned sequentially, constitute an accredited professional education. However, the preprofessional degree is not, by itself, recognized as an accredited degree.
New Jersey Institute of Technology, New Jersey School of Architecture offers the following NAAB-accredited degree programs:
B. Arch. (164 undergraduate credits)
M. Arch. (non-pre-professional degree + 102 credits)
NAAB NJIT 2013 Architecture Program Report (APR) and Visiting Team Report (VTR)
Next accreditation visit for the B. Arch. and M. Arch. programs: 2022
Art + Design Accreditation, Registration, Certification, Licensure and Professional Organizations