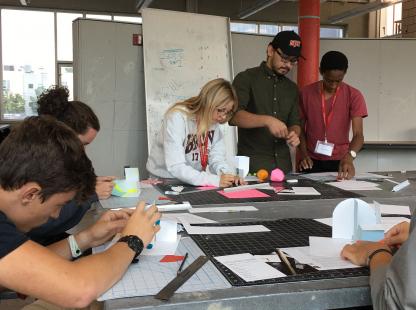 Instructors
Meet our Summer Program Instructors
Architecture + Interiors
David Brothers
David Brothers is coordinator of the Interior Design program at NJIT and has been a full time design instructor in architecture and interior programs at a variety of institutions for 10+ years.  His professional expertise is in office workplace design and learning environments for higher education. As a trained cabinetmaker and professional designer, he has co-authored patents and spearheaded innovative research for contract furniture companies such as Steelcase, Knoll, and Vecta. His current research investigates the ergonomics of seating design for musicians.   
Architecture + Interiors
Brandt Knapp
Brandt Knapp is a New York-based, architectural designer and educator. She currently teaches at New Jersey Institute of Technology as well as Pratt Institute. Since graduating from the M. Arch I program at Yale School of Architecture in 2010, she has worked in the offices of Richard Meier & Partners, Joeb Moore & Partners and begun her own practice with a series of collaborations for architectural installations in the New York area as well as small scale residential and commercial projects. She met her design partner, Jerome W Haferd, while in grad school where they began working together on school projects. In 2012, she and Jerome W Haferd, built their first work following their proposal for curtain, which won the inaugural Folly Competition initiated by the Architectural League of New York and Socrates Sculpture Park. More recently they collaborated with media (sound) artist Jessica Feldman, on caesura: a forum, a public art & architecture installation on Marcus Garvey Park's acropolis in Harlem.
Design + Make
Jose Alcala, College of Architecture and Design at NJIT 
Jose Alcala is a licensed architect, industrial designer, renewable energy specialist and educator. He has been awarded ten patents and one provisional patent and has received several awards for both his architectural and product design work. Alcala is co-founder of two companies that serve the industrial, architectural and sustainable fields of design - MADLAB, LLC (Morozov Alcala Design Laboratory) and RELAB, LLC (Renewable Energy Laboratory). Alcala is a registered architect in the State of New Jersey and a member of the American Institute of Architects (AIA) and the Industrial Designers Society of America (IDSA).
Design + Make
Martina Decker, College of Architecture and Design at NJIT 
Martina Decker has worked on a wide range of award-winning projects that represent a penchant for interdisciplinary work, including: art installations, consumer products, and buildings. She is known for her pursuit of design innovation through emergent materials, and works directly with various types of smart materials and nanomaterials.
Video Game Design
​Augustus Wendell, College of Architecture and Design at NJIT 
Augustus Wendell is an educator, technologist and designer. As owner and creative director at kim.wendell design Augustus has directed visual imagery marketing campaigns for international real estate developments worth over $1B. As creative director at Versatile CGI Augustus has directed digitally augmented photo shoots for Google and GQ Magazine. Augustus has taught at several design schools and currently holds an appointment as University Lecturer and Coordinator of the Digital Design Department at The New Jersey Institute of Technology. Augustus has an undergraduate degree from Northeastern University and a graduate degree from The School of Visual Arts.