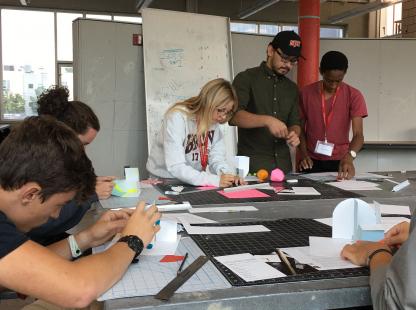 Instructors
Meet our Summer Program Instructors
Architecture + Interior Design
Brandt Knapp and Julio Figueroa, Instructors
K Brandt Knapp is a co-founder of BRANDT: HAFERD with Jerome W. Haferd. BRANDT: HAFERD is a Harlem-based architecture and design studio. Winners of the 2020 New Practices New York Award, their body of work includes academic research and a range of built projects - from the domestic to the workplace to the urban - that challenge the limits of design practice. Performance and Play, Abstract vs. Built Form, Nature and Territory are some of the interests explored in the practice. Haferd and Knapp were winners of the inaugural 2012 Folly competition held by the Architectural League of New York and Socrates Sculpture Park. Another architectural installation, caesura: a forum, at Harlem's Marcus Garvey Park in 2015 was a collaboration with artist Jessica Feldman, and supported by grants, the NYC Parks and local organizations. In 2019 the firm won the Zero Threshold competition, and they have been actively working to combat isolation this year with design and planning efforts - notably the parklet design Migrate for The Row & Alibi Lounge in Harlem as part of the Renaissance Pavilion Project. Their work has been exhibited at various institutions including Storefront for Art & Architecture. Brandt received her Masters of Architecture from Yale School of Architecture. She has taught architecture courses at UPenn's Stuart Weitzman School of Design, MICA, NJIT, Pratt Institute, and Columbia's GSAPP.
Julio Figueroa, long-time University Lecturer in the School of Architecture, joined the ranks of  Architecture Faculty crossing over into the School of Art +Design in 2016 teaching the Building  and Interior Systems course sequence and one of the 3rd Year Interior Design Studios. A  registered architect since 1996, he has taught at NJIT since 1999 and is principal of  JGF Architects, LLC in Clifton. Figueroa received his professional degree in architecture from Pratt Institute in Brooklyn and previously was a Partner at Gran Associates in New York City.  Experienced in both product and building design, he most recently was Principal Investigator in  the development of a Mobile Medical Care Unit. A prototype of the design, which uses commercial containers in a modular way to augment medical capabilities in the fight against COVID-19, was  built in July of 2020. Figueroa has taught a variety of studios in the School of Architecture as well  as both technical and graphics courses during his time at NJIT.
Product Design + Making
Jose Alcala, Instructor
Jose Alcala is a licensed architect, industrial designer, renewable energy specialist and educator. He has been awarded ten patents and one provisional patent and has received several awards for both his architectural and product design work. Alcala is co-founder of two companies that serve the industrial, architectural and sustainable fields of design - MADLAB, LLC (Morozov Alcala Design Laboratory) and RELAB, LLC (Renewable Energy Laboratory). Alcala is a registered architect in the State of New Jersey and a member of the American Institute of Architects (AIA) and the Industrial Designers Society of America (IDSA).
Game Design +Animation
Miguel Rodrigues, Instructor
Miguel Rodrigues, born in Lisbon, Portugal, is a graduate from SVA with a BFA in animation and an MFA in computer art. He currently teaches at NJIT and has been commissioned in the past to work on projects for Marvel, Stephen King, DC Comics, Black Tide, MTV, Prudential Center, Shpongle, Sneaux, Orange County Choppers, American Choppers, and more. He is currently living in New Jersey and is a busy, self-employed freelance artist, a teacher, a father and is also currently working on a wide variety of art projects from his studio.