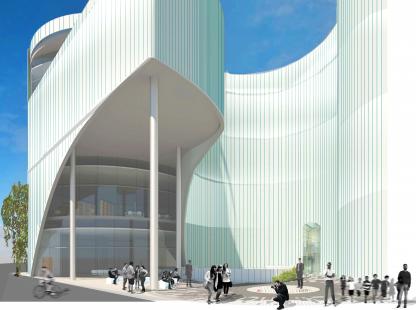 School of Architecture: SlideRoom Instructions
Portfolio Requirement for Submission via SlideRoom
Virtual Portfolio feedback sessions
are helpful when preparing your portfolio for review. Hillier College hosts frequent portfolio review sessions for students who are considering applying, all levels of interest welcome.
Sign up here.

The New Jersey School of Architecture (NJSOA) requires students to submit a portfolio of creative work as part of the NJIT admissions process.  A portfolio conveys an applicant's visual awareness and reflects their potential for success in design education.  The College considers the portfolio as only one of a number of factors when evaluating a candidate for admission, but submission is required.  In some instances, a strong portfolio may make the difference between the College offering a place in the class or not.
Portfolio Content and Format for ALL programs at the New Jersey School of Architecture:
All applicants applying as freshman to the New Jersey School of Architecture (NJSOA) must use the Common Application and submit the portfolio through the integrated SlideRoom app. Transfer applicants may submit work with SlideRoom without using the Common Application.  Students who wish to transfer internally within the College of Architecture and Design, or from a different college within NJIT, must also submit a portfolio of creative work which may, if appropriate, include work done in courses at NJIT. 
Portfolios should contain ten to twenty examples of work (Please use the 6 to 25 file setting in SlideRoom). Work must be creative – and created by the applicant. The portfolio may include examples of graphic design, architectural design, photography, furniture design, drawing (any medium or combination of media), painting, watercolor, film/animation, sculpture, etc.  We encourage you to scan or photograph work created with traditional media (e.g. pencil drawings/sketches, acrylic or oil paintings, sculpture).  And although the School's programs are primarily visual in their orientation, we encourage you to supplement your visual materials with additional samples of work created with a diverse range of media, including recorded samples of performance art (e.g. acting, singing, dancing), originally composed music and creative written work such as screenplays and poetry.
The School places a premium on good submissions over a variety of media for admission. In other words, do your best to submit more than one kind of project but remember to also show us your critical abilities in selecting your best work. In some instances, a quick gestural sketch can show your skill as effectively as a more time-intensive piece. Do not send us everything you have done – use discretion in your submissions.
We emphasize that your portfolio contain creative work by you and discourage copying that of others, such as characters you've seen in cartoons, graphic novels, television shows, or motion pictures.  We also discourage your including manual or computer-aided drafting or rendering as proof of drafting competency alone; we will only consider these examples if produced in the service of a creative design.  We do however encourage you to provide us with examples of close observation through freehand field sketching and photography. We are looking for evidence of visual understanding and the creative spark that motivates you.
SlideRoom requires you to upload individual images that it generates into a single portfolio.  Please save single images in JPG format using minimal compression (maximum quality) to avoid unwanted visual artifacts that compromise the quality of your work. Submit any animations in MPG and/or AVI formats. Make sure that any file you save has an extension e.g. .jpg, .mpg (be aware that Mac Operating Systems developed by Apple do not always do this automatically). You should design the portfolio and organize the viewing sequence; do not rely on default alphabetical file names.
A portfolio should be clear, easy to view, and represent you in the best possible way. We strongly recommend that you include your name in the contents (not just as a filename), describe each work and your intention briefly (one to two lines), include information about media used, the size of the original (if the submission is a scan or photo), and the purpose of the work (class, personal, paid work, etc.).  If a single project extends over several image files, please be mindful of how you indicate that continuity.