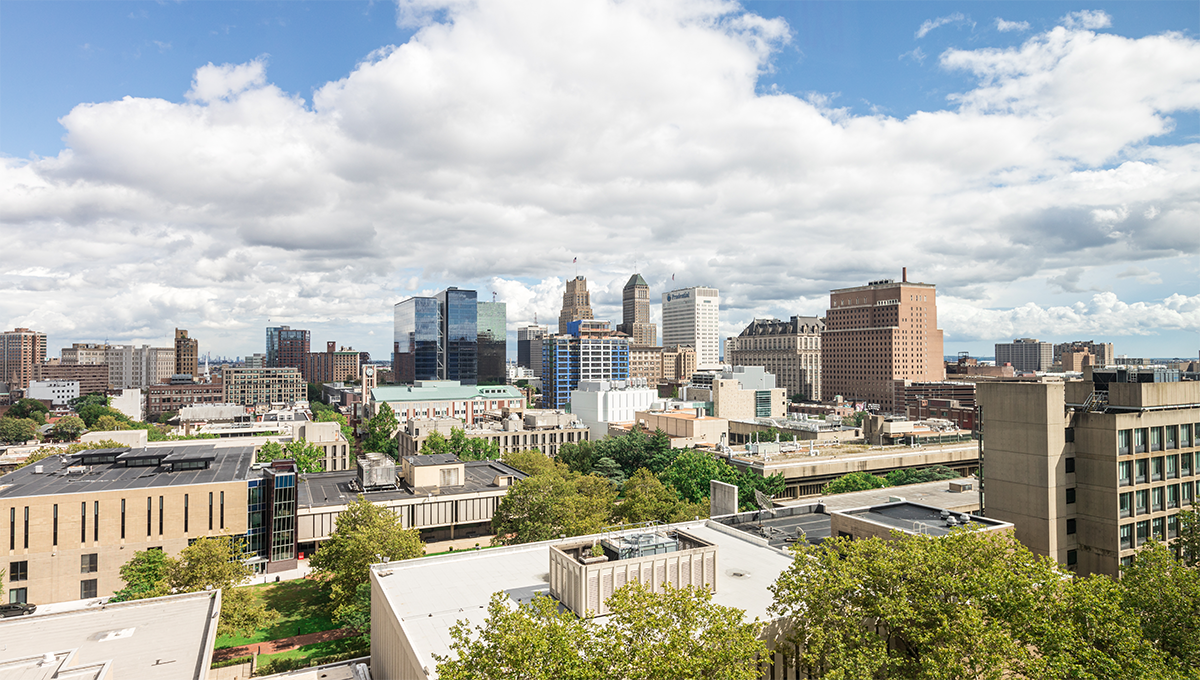 Envisioning Newark
Newark: The Earnest Way Forward is an essay by Ebony Payne, completed in Anthony Schuman's 'Envisioning Newark' class.
Post Date:
Monday, December 13, 2021
30 November 2021
Ebony Payne
When academic conversations about Newark arise at NJIT, the focus often falls on the idea that the city is experiencing a renaissance—that crime rates are dropping, arts and cultural institutions are thriving, and new housing and commercial developments are emerging, particularly in the Downtown and Central Business Districts. While these talking points seem positive at face value, it has been much more interesting and enlightening to gain insider knowledge from the parties involved in Newark's revitalization and evaluate the tangible effects of their work. This semester, my impressions of Newark have been reshaped by the various developers, institutional leaders, and activists with whom we've interacted; based on their earnestness and honesty about the present and future of the city, I believe that Newark, although far from perfect, is in good hands. 
One of the semester's first topics of discussion that became a recurring theme is the deeper meaning of the word "development." In the essay, "Growth Without Development", Richard Cammarieri, Director of Special Projects, New Community Corporation, criticizes the overuse of the word, urging the reader to evaluate the function and the target audience of new buildings and complexes. He points out that 28% of Newark households are below the poverty line, and 40% are barely above it, signaling a clear gap between "the activity called 'development'"—such as the presence of Society Hill, Science Park, and the Gateway Complex—and "direct benefits to Newark residents." Growth, he argues, accomplishes little if the resultant economic benefits only reach people living elsewhere. The essay, along with our subsequent conversation with Cammarieri, set the stage for our later meetings with David Troutt and Ron Beit, who provided insight into projects that have already been built as well as future plans to close this "gap" that Cammarieri describes.
Ron Beit, CEO and founder of RBH Group—the firm responsible for Teacher's Village and the Rutgers Honors Living-Learning Community—is an example of a developer who is deeply invested in the service of Newark residents. He explained that a large part of his effort is to ensure that people who work and learn in Newark also live in Newark, which requires architects to design for the physical, programmatic, and financial needs of specific communities. For example, Teacher's Village was designed to encourage teachers at the nearby public schools, charter schools, universities to live close to their jobs, and to do this, rent was subsidized to match a teacher's salary. As a result, around 70% of the project's current residents are teachers. Although the ground-floor retail that was planned for the complex has been a hard sell for local businesses, the residential bulk of the project has been highly successful, sparking other "Teacher's Village" projects to pop up in various American cities, such as Hartford, Chicago, and Atlanta.
Teacher's Village, which was completed in 2018, represents a past example of the "work and live" initiatives in Newark, but the discussion with David Troutt, Professor of Law and Founding Director, Rutgers Center on Law, Inequality and Metropolitan Equity (CLiME), at Rutgers University-Newark, shined a light on the future plans for the city to continue this trend. "Homes Beyond Reach", a study by Rutgers CLiME, which Troutt directs, pinpointed the gap in Newark's housing market with objective data. Specifically, the research concluded that Newark needs roughly 16,000 units renting at $750 per month to fulfill the city's demands. "Homes Beyond Reach", along with other CLiME studies, went on to inform this year's Equitable Economy Recovery Plan, endorsed by Mayor Baraka, which calls for the creation of jobs and the bolstering of small businesses within an 18-month time frame, as well as the addition of 6,000 new units at a 30% affordable rate over a 10-year period.
In our meeting, Troutt acknowledged the difference between Baraka's housing plan goals and CLiME's, but noted that it is rare and noteworthy that the municipal government takes these recommendations seriously. Not only does the plan demonstrate City Hall's investment in the betterment of Newark, but it also reveals the importance of institutions like Rutgers beyond the grounds of the campus. The intentions of developers, as Troutt pointed out, are highly variable and difficult to predict; not all of them are as invested in equitable growth as RBH Group.
However, Newark's anchor institutions, such as the aforementioned Rutgers and NJPAC, are much more consistent in their interests in serving the city. John Schreiber, President and CEO of NJPAC, explained to us that the Arts Center intentionally positions itself as an anchor cultural institution to encourage future equitable growth, and is unafraid to take thoughtfully considered risks to advance its mission. For instance, prior to the construction of NJPAC, the founders secured an additional seven acres of adjacent land, in addition to the acreage needed for the Center facility itself, for future residential and retail development. This foresight has resulted in the construction of 1 Theater Square, a 22 story residential tower, and plans for another 350 units of new residential housing on NJPAC's parking lot A. World class architects Skidmore, Owings and Merrill have been engaged to design this next phase of growth.
Of all of the insights I've gained this semester, what stands out to me the most is the genuineness of Newark's activists and community leaders. In Unfinished Agenda, Junius Williams, lawyer, activist, and Newark City Historian, constantly mentions the importance of participation in community, especially as an activist. He writes about the role of bars and churches as spaces where connections are built and trust is fostered. The more that this course has introduced me to the key figures in the goings-on of Newark, the more that I have come to understand the extent to which they live like Junius—as integrated members of Newark communities and not simply as figureheads. I've begun to recognize our class guests at various Newark events, no matter how small. I recall seeing Richard Camarieri and Christopher Watson, Planning Officer for the City of Newark, at an intimate gathering in Gallery Aferro back in October, and Junius Williams at the Branch Brook Park PorchFest, greeting anyone who crossed his path. I witnessed Regina Barboza, Interim Executive Director, Newark Arts, give a speech on the opening night of the Newark Arts Festival, before a local band took the stage. I saw many of the same people, once again, at the Christian McBride concert at NJPAC, where John Schrieber enthusiastically addressed the crowd and Mayor Baraka performed a rousing poem that resulted in a long standing ovation. While I have deeply enjoyed the conversations with our guests, it adds another level of validity to their words to actually witness them in action, in both mundane and extravagant moments.
At the start of the semester, my overall impression of Newark was that the city had grown on me, and that I was interested in the events and tidbits of knowledge that I'd previously missed. Now, I feel as though I have gained a more nuanced view of what's actually happening in the city, including the positive elements of its "renaissance" and the struggles that complicate its progress. What I can say with confidence after meeting so many of Newark's leaders is that they love their city, they are deeply invested in its success, and most importantly, they truly believe that Newark is worth the effort it takes to move forward.