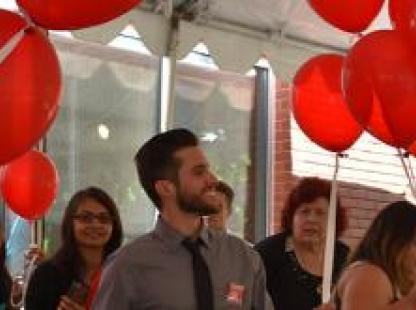 Campus Life
Campus life for Architecture and Design students
Solar Decathlon
In 2011, the Hillier College of Architecture and Design in partnership with Rutgers University, successfully competed in the Solar Decathlon, an international design competition sponsored by the U.S. Department of Energy. The Solar Decathlon challenges collegiate teams to design, build, and operate solar-powered houses that are cost-effective, energy-efficient, and attractive.  The winner of the competition is the team that best blends affordability, consumer appeal, and design excellence with optimal energy production and maximum efficiency. The NJIT/Rutgers team designed and constructed the eNJoy! House, the first high-mass precast concrete structure to be produced for the competition.
In 2013, the College partnered with the Harbin Institute of Technology to compete in the first ever China National Energy Agency that took place in Datong, China. NJIT was one of only three U.S. schools selected for the 22-team competition, which was truly international in scope. The NJIT/Harbin team designed, and constructed in China, Nexus House, a house that brought together sustainable western sensibilities within the form of a traditional Chinese courtyard house.
In 2018, the College traveled again to China to build a solar house - this time partnering with the China National Building Materials International Engineering Group and Wuhan University. The house integrated the latest solar technology and a new formal expression to multi generational living in the "New Energy Smart House." A smart home system was build by creating a central system that linked an energy management system to an indoor environment monitoring system. The system was used for lighting, heating and cooling, water management and security. When appliances are not in use the system saved energy by temporarily cutting off power. A visual interface provided the necessary feedback for the residents to save energy in their live habits.   
The college brings state-of-the art computer numerically controlled (CNC) hardware to the design process. Students have the ability to use die and laser cutters, as well as advanced forming tools such as Dimension 3D Printers and a Precix 9100 Industrial 3-axis router to make physical their digital designs. The university has recently added a growing Maker Space laboratory in the summer of 2018 and continues to engage in direct-to-manufacture technology in coursework and faculty research. Equipment is located in specialized laboratories located throughout the college and across campus.
Graduation Celebration
The Graduation Celebration is an elegant and festive affair. Held under a tent on the lawn, new Hillier College graduates enjoy champagne and strawberries and a brass quartet in their caps and gowns. The Dean makes a special toast and awards are made to outstanding students. Finally, students are photographed on the ramp, accompanied by a red HCAD beach ball send-off amid cheers of success and celebration.