Spring 2013 Lecture Series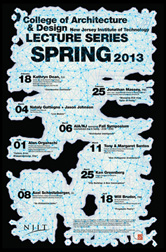 The Spring 2013 Lecture Series at the
College of Architecture and Design
(CoAD) at NJIT started on February 18 with Kathryn Dean's talk. This semester, the series will feature Jonathan Massey, Nataly Gattegno + Jason Johnson, Tony & Margaret Santos, Ken Greenberg, Alan Organschi, and Axel Schmitzberger as keynote speakers. It will conclude on April 18 with an AIA-endowed lecture by Will Bruder, which is also a part of the annual
Design Showcase
event. As part of the series, on March 6, CoAD will host a Spring Symposium on "Distributed Intelligence" sponsored by AIANJ. This symposium was originally planned for Fall 2012 and was rescheduled due to Hurricane Sandy. All lectures take place on Mondays at 5:30 in Weston Lecture Hall unless otherwise noted, and are free and open to public.
February 18
Kathryn Dean, R.A., Director, Graduate School of Architecture & Urban Design, Washington University in St. Louis; Partner, Dean/Wolf Architects
"Constructive Continuum"
February 25
Jonathan Massey, Ph.D., Professor, Syracuse University School of Architecture, Syracuse, NY
"Managing Risk from Fuller to Foster"
March 4
Nataly Gattegno + Jason Johnson, Principals, Future Cities Lab, San Francisco, CA
"Live Models"
March 6
AIANJ-sponsored Fall Symposium
"Distributed Intelligence"
4:00pm – 8:00pm
March 11
Tony & Margaret Santos, Professor and Adjunct Faculty, CoAD at NJIT
"New Portuguese Architecture"
April 1
Alan Organschi, Principal, Gray Organschi Architecture; Lecturer, Yale School of Architecture
"Failure, Error, Misapprehension, Slop"
April 8
Axel Schmitzberger, D.I., Assistant Professor, College of Environmental Design, California State Polytechnic University, Pomona, CA
"An Alchemical Index"
April 15
Ken Greenberg, Principal, Greenberg Consultants Inc. Toronto, ON
"City Building: A New Convergence"
April 18
Will Bruder, FAIA, Will Bruder Architects, Phoenix, Arizona
"Pragmatic Poetry"
AIA-endowed Lecture / Design Showcase 2013