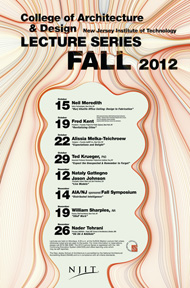 The Fall 2012 Lecture Series at the
College of Architecture and Design
(CoAD) at NJIT  starts on October 15 with Neil Meredith's talk on a recent project by Gehry Technologies,
Burj Khalifa Office Ceiling
. Featuring Fred Kent*, Alissia Melka-Teichroew, Ted Krueger, Nataly Gattegno + Jason Johnson, and William Sharples as keynote speakers throughout the series, it concludes with a lecture by Nader Tehrani. As part of the series, on November 14, CoAD will host a Fall Symposium on "Distributed Intelligence" sponsored by AIANJ. All lectures take place on Mondays at 5:30 in Weston Lecture Hall unless otherwise noted, and are free and open to public.
Oct 15
Neil Meredith, Gehry Technologies, New York, NY.
"Burj Khalifa Office Ceiling: Design to Fabrication"
Oct 19
Fred Kent*, President + Founder, Project for Public Spaces, New York, NY.
"Revitalizing Cities"
* AIAS-sponsored lecture, AIAS Northeast Quad Conference - time: 6-9 pm - location: 1 Newark Club in Downtown Newark - cost: $10 admission, dinner provided, registered AIAS Members receive free admission
Oct 22
Alissia Melka-Teichroew, Designer + Founder byAMT Inc., New York, NY.
"Expectations and Delight"
Oct 29
Ted Krueger, PhD, Associate Professor, Rensselaer Polytechnic Institute, Troy, NY.
"Expect the Unexpected and Remember to Forget"
Nov 12
Nataly Gattegno + Jason Johnson, Principals, Future Cities Lab, San Francisco, CA.
"Live Models"
Nov 14
AIANJ-sponsored Fall Symposium
"Distributed Intelligence"
Nov 19
William Sharples, AIA, Partner, SHoP Architects, New York, NY.
"SHoP Work"
Nov 26
Nader Tehrani, Principal, NADAAA, Head, MIT School of Architecture, Boston, MA.
"DA DA A NADAAA"