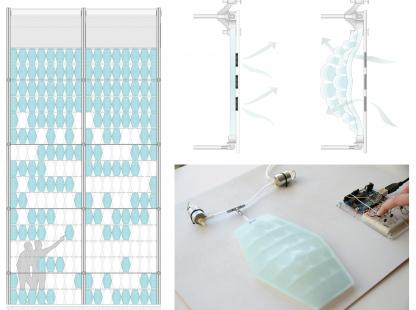 Design Highlights
Student, Faculty and Alumni-Dispatches From the Field
STEM with the Power of Design
Architecture Alums Redesign Historic Church for New Harriet Tubman Museum
In June 2019 the museum trust hired Fulcrum Design Group, owned by Hillier College of Architecture and Design alumni Paul and Cassandra Farnan to help with the museum's architectural redesign. They felt even stronger about it as the Black Lives Matter movement accelerated. 
Adapting to a Pandemic: What Was Gained and What Was Lost
Just before spring break, the experiential and in-person way of learning was abruptly disrupted, yet both students and faculty demonstrated an amazing capacity to adapt quickly. 
Hillier College Student Nada Boules Zag Hotel Design Wins 2020 Green Voices Award
Nada Boules is a rising senior in the Hillier College of Architecture and Design Interior Design Program and the winner of the 2020 (NEWH) Green Voice Design Competition.
NJIT's Digital Design Major Again Tops in N.J., Says Industry Website
NJIT's digital design major is the best in New Jersey for the second year in a row, according to industry website Animation Career Review. 
Designing and Building with Technology and Data: the Human Factor​
Whether we are engaged in working, shopping, or leisure, the data on our behaviors and preferences can be used to design more responsive, tech-enabled environments. 
'Shark Tank' Gives Deals to Professor, Alum of Industrial Design Program​
An adjunct professor and an alumnus, both affiliated with the Hillier College of Architecture and Design, recently earned funding for their start-up companies on the television show Shark Tank.
Daniel Meza, Industrial Design and Honors College Student granted Fulbright Award
The scholarship will take him to Macquarie University in January 2021, where he'll develop a method for creating furniture out of slime mold. 
Setting Up the Design Studio of the Future with Oculus Rift Headsets
, Autodesk Revit software with Enscape​ and Handheld Controllers
The Lenovo Thinkstation 520c workstation equipped with VR-ready Nvidia RTX graphics card, Intel Xeon processor, 64 gigabytes of RAM, Microsoft Windows 10 Pro/64 and a minimum of 1 terabyte solid-state storage –  puts students on par with what is being used right now in the design industry,
Fatima Zahra, Interior Design