NJIT CoAD Students Develop Plans for Hackensack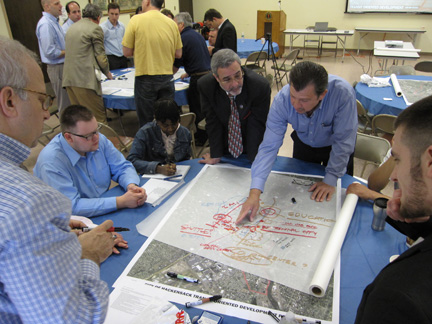 While most students are preparing for their finals, Infrastructure Planning students from the College of Architecture and Design are getting ready for their Final Public Presentation at the City of Hackensack Council Meeting on May 7.
The presentation is a part of 2012 Spring MIP studio, which aims to develop community-based Transit Oriented Development Planning and Urban Design Strategies for the City of Hackensack, New Jersey. The project constitutes the critical design component of a Transportation, Community, and System Preservation Program (TCSP) grant, sponsored by North Jersey Transportation Planning Authority and NJ Transit. The studio is working with a steering committee made up of Hackensack's City Administration, business owners and other members of the committee.
The MIP studio is taught by Roger Smith with Martin Robins, the Director Emeritus of the Voorhees Transportation Center at Rutgers. Throughout the semester, the class was periodically guided by Darius Sollohub, director of NJSoA, and by Richard Polton, an architect and planner and the grant's real estate consultant. So far, the students have participated in two charrettes in which they shared their findings and proposals with longtime residents, business owners and city official as well as the press. The project was featured in The Record on March 30 and April 1.
As Roger Smith, adjunct professor at the College of Architecture and Design at New Jersey Institute of Technology, explained to Colleen Diskin from The Record the rationale of the workshop "It's not planners sitting in an office designing; it's reaching out to the people who know the community. They are the ones who have enormous insight into the functioning of a community." Student presentations and the interaction between the students and the people of Hackensack were documented and both Charrette 1 and Charrette 2 are available on YouTube for all interested.
The students who are participating in this project are Nana Biney, Priti Dhungel, Cory Fernandez, Kareem El Gendy, Ji Hwan Han, Slavco Mizimakoski, Kyle R. Moran, Agnieszka Pregowska, Adam Rapciewicz, Komal Shah, Chanhua Zhou.