Architecture and Design Students Exhibit at Earth Day Education Fair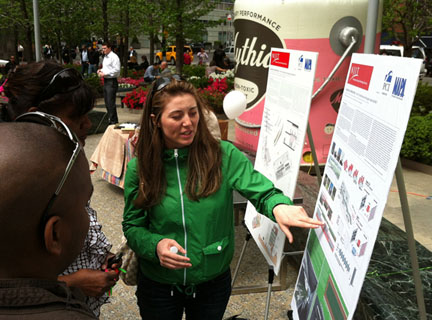 Ten students from the College of Architecture and Design participated in the 2012 Earth Day Education Fair at 7 World Trade Center in New York City on April 20. Sponsored by Tishman Construction (an AECOM Company) in conjunction with Silverstein Properties, the second annual event featured environmental sustainability experts, students, and manufacturers who provided information on sustainable design to the public. NJIT, the only university with students exhibiting, had six students from the School of Architecture and four from the School of Art + Design alongside local representatives from a diverse group of exhibitors that included Whole Foods Market, Port Authority of New York & New Jersey, Mercedes Benz/Smart, Sprint, and Steelcase. Coordinated by Assistant Prof. of Architecture Matt Burgermaster and accompanied by the Director of the School of Art + Design, Glenn Goldman, the students displayed work that ranged from a hydroponic urban agriculture building featuring high-performance precast concrete to playground equipment designed with recycled and repurposed materials to product design that included solar power-collecting umbrellas and toys.
The participating students were from Architecture: Dan Allocca (Florham Park, NJ), Rana Karca (Ridgewood, NJ), Pablo Lopez (Paramus, NJ), Michael Middleton (Fairfield, NJ), Kyle Stevens (Union, NJ), and Jared Vaughn Timothy (Bloomfield, NJ); from Industrial Design: Alexander Nizzardo (New Providence, NJ)and Sara Jane Rin (Jersey City, NJ); and from Interior Design: Mary Elizabeth O'Haire (Little Falls, NJ) and Nicole Zampolin (River Vale, NJ).
For images and posters please visit our Facebook page.