Interior Design Students Win Kimball Office Chair Design Competition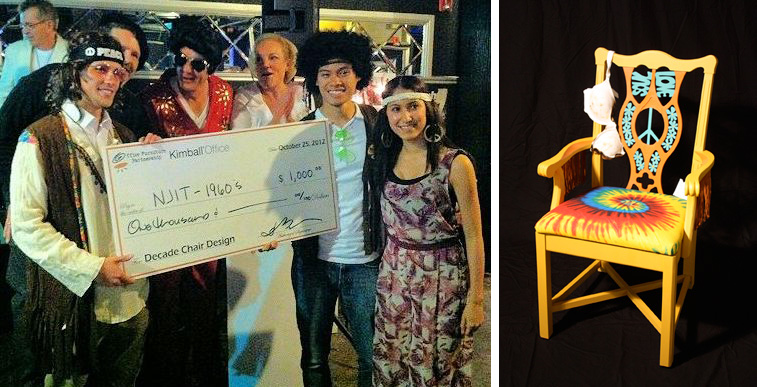 Three third-year Interior Design students from the School of Art + Design were selected as one of two winners of the 2012 "Through the Decades" Chair Design Competition sponsored by Kimball Office Furniture. Six teams from New Jersey interior design programs were asked to "creatively match the aesthetics of a specific decade" while "reinventing a classic piece of Kimball furniture." The winning NJIT team consisted of Mike Chiappa (Lyndhurst, NJ), Nora Gharib (Secaucus, NJ), and Gerard Toledo (Jersey City, NJ) who collectively were assigned the decade of the 1960s. All NJIT entrants in the competition participated outside of regular class or studio time as an extracurricular activity and were supervised by University Lecturer David Brothers, Coordinator of the Interior Design program.
The winners were announced at the 2012 Kimball Office Furniture Partnership's Annual Halloween Party on October 25 where party goers voted on their favorite design. Designers attended the party in costume representing their assigned decade. The winning chairs will be on display at the Kimball showroom in New York and the three designers share a scholarship prize of $1,000.