Graduate Architecture Studies at NJIT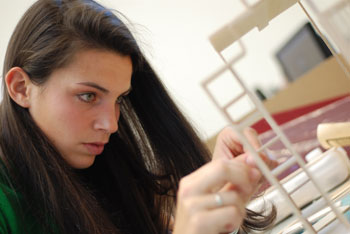 The study of architecture in the Master of Architecture program at the College of Architecture and Design at NJIT is a demanding and rewarding experience. The school, a pioneer in the application of digital technologies to design, prides itself on educating forward-thinking architects prepared for the challenges of designing and building in a complex and ever-changing world. Building on a solid foundation in the discipline of architecture, graduate studies at the College look to the future by focusing on adaptive design for a changing climate. Whatever the scale of the project—from room to building to city to region—design is approached in a manner that connects form to performance, with the understanding that a truly smart architecture is socially responsible, environmentally responsive and aesthetically persuasive.
Given our location in Newark, New Jersey—ten miles from Manhattan and at the heart of the New York / New Jersey Metropolitan region—we are deeply committed to exploring new models of resilient design and urbanism and are active agents in the transformation of the contemporary urban landscape. In studios and seminars at all levels, students learn to connect progressive methods and advanced tools to the design and production of real projects for real people. At the College of Architecture and Design we are not just experimenting with alternative futures for architecture, we are making change in the present.
Professional Degree
The Master of Architecture (M.Arch.) at NJIT is a post-baccalaureate professional program, fully accredited by the National Architectural Accrediting Board (NAAB). The six-semester 102-credit program is intended for applicants who have earned a Bachelor of Science, Bachelor of Arts, or a graduate degree in a field other than architecture who wish to earn a degree leading toward professional licensure as an architect. .
Candidates entering the Professional M. Arch. program complete a required core sequence covering architectural history, integrated building systems, and digital design and representation applications as a series of progressive and cumulative co-requisites for the first four design studios. After completion of this mandatory core sequence, M.Arch students enter the advanced options sequence, in which students are given a selection of design studios in each semester, along with additional elective courses to round out their professional education.
A shortened program is available through advanced placement for applicants who have a pre-professional Bachelor of Science or Bachelor of Arts in Architecture or another field directly related to architecture, or students who have a Bachelor of Architecture from a non-NAAB accredited program (all international students).
Admission Requirements
In addition to completing forms required by NJIT's Office of University Admissions, applicants must also submit to the School of Architecture supplementary application forms and materials. To ensure prompt consideration, students should request these materials from the graduate program in architecture at the time they first apply for admission to the university.
Applicants are expected to have a minimum undergraduate GPA of 3.0; Graduate Record Examination (GRE) scores are required. Admission to the M. Arch. program is evaluated through consideration of the applicant's personal statement, three (3)  letters of recommendation, design portfolio and previous academic and work experience. TOEFL scores are required for all students from international colleges or universities at which the primary language of instruction was not English.
Degree Requirements
The 102-credit program consists of a core sequence and an options sequence. There are required and elective courses within both the core and options sequences. Candidates are expected to complete the core sequence in two years. Before registering for courses, all students must consult with the graduate advisor to plan an appropriate program of study.
Core Sequence (72 Credits)
Core courses in the M. Arch. represent the minimum background necessary to meet NAAB standards. If students demonstrate that they have already taken equivalent course work, degree credits for those courses are waived in the 102-credit total required for the program, and they are then given advanced placement.
72 credits as follows:
| | | |
| --- | --- | --- |
| ARCH 555G | Architectural Graphics | (3 credits) |
| ARCH 501G | Architectural Design I | (6 credits) |
| ARCH 528G | History of Architecture I | (3 credits) |
| ARCH 541G | Construction I | (3 credits) |
| ARCH 527G | Situating Practice | (3 credits) |
| ARCH 500G | Advanced Architectural Graphics | (3 credits) |
| ARCH 502G | Architectural Design II | (6 credits) |
| ARCH 529G | History of Architecture II | (3 credits) |
| ARCH 543G | Environmental Control Systems I | (3 credits) |
| ARCH 545G | Structures I | (3 credits) |
| ARCH 503G | Architectural Design III | (6 credits) |
| ARCH 542G | Construction II | (3 credits) |
| ARCH 544G | Environmental Control Systems II | (3 credits) |
| ARCH 548G | Structures II | (3 credits) |
| ARCH 504G | Architectural Design IV | (6 credits) |
| ARCH 547G | 4D Integration | (3 credits) |
| ARCH 579G | Professional Architectural Practice333 | (3 credits) |
| ARCH 569G | Building & Development | (3 credits) |
| History/Theory Electives | Two Elective Courses in History and/or Theory, one of which must be non-Western in focus | (6 credits) |
Options Sequence (30 Credits)
Required Courses
30 credits minimum consisting of 12 studio and 18 elective credits.
ARCH 505G
Advanced Design Options I
(6 credits)
ARCH 506G


or MARC 70

Advanced Design Options II


or Master of Architecture Thesis (**)

(6 credits)
​

(6 credits)
**Arch 661, Directed Studies of Architecture (3 credits), is a prerequisite for MARC 701, Master of Architecture Thesis, and is taken as an elective.
Elective Courses
18 credits as selected in consultation with the graduate advisor
Professional Accreditation
In the United States, most state registration boards require a degree from an accredited professional degree program as a prerequisite for licensure. The National Architectural Accrediting Board (NAAB), which is the sole agency authorized to accredit U.S. professional degree programs in architecture, recognizes three types of degrees: the Bachelor of Architecture, the Master of Architecture, and the Doctor of Architecture. A program may be granted a 6-year, 3-year, or 2-year term of accreditation, depending on the extent of its conformance with established educational standards.
Doctor of Architecture and Master of Architecture degree programs may consist of a pre-professional undergraduate degree and a professional graduate degree that, when earned sequentially, constitute an accredited professional education. However, the pre-professional degree is not, by itself, recognized as an accredited degree.
New Jersey Institute of Technology, New Jersey School of Architecture offers the following NAAB-accredited degree programs:
B. Arch. (164 undergraduate credits)
M. Arch. (non-pre-professional degree + 102 credits)
Next accreditation visit for all programs: 2022