Opportunities abound for learning and activity beyond the classrooms and studios of the School of Art + Design. Activities and experts come to NJIT for student enrichment, and the New Jersey and New York metropolitan areas provide numerous opportunities for both extracurricular and class-organized visits to important venues.
Industry Speak Seminar Series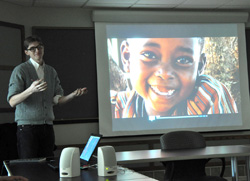 Industry Speak Seminar Series brings to NJIT accomplished individuals to present to, and speak with, small groups of students about career opportunities and unique aspects of the professions related to the programs in the School of Art + Design. Some of these speakers are invited and sponsored by various NJIT student chapters of professionally affiliated organizations, others by the School. The list of past speakers covers a wide variety of subjects and areas of expertise and includes:
Harry Allen, principal of Harry Allen Design who presented an overview of his expansive product line that includes furniture, lighting, packaging and small gift items in addition to retail and exhibit design. Allen's work is in the permanent collection at the Museum of Modern Art in New York City, the Brooklyn Museum of Art, the Denver Museum of Art, and the Philadelphia Museum of Art. His client list includes SA Baxter Architectural Hardware, Umbra, Areaware, Corian/DuPont, Johnson & Johnson, and more.
Adam Burr, Senior Research Associate from Blue Sky Studios in Connecticut, described the entire process of producing a feature-length animated motion picture using Rio as the example to show various phases and tasks required. 
Robert Debbane, Brooklyn-based product/industrial designer who specializes in lighting but also designs toys, furniture, and affordable items for the home. He is a past recipient of the Editor's Award for best lighting product at the International Contemporary Furniture Fair and has created products for Kikkerland and Areaware.
David Hall, the New Jersey-based Architectural Representative for the Sherwin-Williams Company of Cleveland, Ohio who gave a presentation about paints and coatings to the Interior Design students.
Reid Johnson, Autodesk's program manager for architectural, engineering and construction education in North America who provided seminars and hands-on tutorials on the company's new product "Fusion 360" to Industrial and Interior Design students.
Dan Lane of goodeye video presented work and discussed careers producing film and video for non-profit companies like Building Futures, Inc.
Fernando Music of the New York-based firm, The Rooster Design Group specializing in branding and marketing, web design, print communications and social media, led a discussion about advertising design for various clients like Early Bird Foods & Co,. Bryant Park, Friends of the High Line, K. Hovnanian Homes, Toll Brothers, Silvercup Studios, Alloy Entertainment, Prudential Douglas Elliman Developments, and others.
Mary Nittolo from the Studio discussed graphic careers in textbook and medical illustration and also the diversity of skills needed by entry-level designers in the New York City market.
Scott Sindorf from UVPHACTORY who has produced, among other things, the Wanderlust Bjork music video, commercials for Nike and Swatch, and special effects for Animal Gladiator on Animal Planet as well as SyFy Channel's Warehouse 13 and Eureka. 
Mark Stefurak, Director of Architecture and Design and Deborah Tjan, Regional Sales Manager for Strategic Accounts at Steelcase, who spoke about the use of behavioral research in commercial office interior design.
Industry Partnerships
Industry Partnerships allow NJIT to bring students to professional facilities, like the Philips Lighting Application Center in Somerset, New Jersey where Interior Design students utilize the Philips Lighting Lab in discover exercises to gain a visceral understanding of uses, impacts, and opportunities with current generation light sources like halogen, compact fluorescent, and LED lamps and controls. The annual visit is sponsored by Philips Lighting which is part of the Netherlands-based Koninklijke Philips Electronics N.V.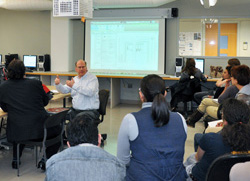 At times, industry resources come to the School of Art + Design. Autodesk holds on-campus seminars in advanced techniques in building information modeling for second and third year students in Interior Design. Moreover, they have sponsored Interior and Industrial Design students in summer training to become software student experts available throughout the academic year to help their classmates learn and integrate the most current information technology applications available to designers.
Additional partnerships have been made with product manufacturers like Cambridge Silversmiths and Kikkerland to create sponsored studios for Industrial Design to provide resources for students involved in product design for items that have ranged from table top collections to toys for children.
Student Chapters of Professional/Affiliated Organizations
There are student chapters of professional/affiliated organizations for the programs in the School of Art + Design. Each organization provides activities that include networking with professionals at the local and national level, participation in conferences and trade shows, access to student design competitions, community service (like Dream Room Makeover), access to resources for internships, and more. Currently active are:
American Society of Interior Designers (ASID)
International Interior Design Association (IIDA)
Association of Computing Machinery/Special Interest Group in Graphics (ACM/SIGGRAPH)
Industrial Design Society of America (IDSA)
Museums and Galleries
Museums and Galleries are unparalleled in the area. Trips are organized by the student organizations to visit special exhibitions relevant to the different programs, by instructors in support of classroom activities, and by ad hoc student groups simply because there is a lot to see and many ways to learn – and because looking at superb examples of art and design is inspirational. Among the more popular destinations for students and student groups are the Metropolitan Museum of Art in New York (The Met), the Museum of Modern Art (MoMA), the Newark Museum, the Guggenheim Museum, the Whitney Museum of American Art, the Frick, Cooper-Hewitt Museum, the Museum of Arts and Design (MAD Museum), and a plethora of private galleries in both New York and New Jersey.
Location-based Resources
Location-based resources exist by virtue of where we are, and provide opportunities that either do not exist elsewhere, or are not as numerous. Interior Design students embarking on a retail project meet with managers and designers of significant projects like the Victoria Secret store in New York. Or they get access to a Cass Gilbert-designed historic structure in downtown Newark while it is undergoing renovation (managed by a graduate of the College of Architecture and Design) to be used as the source/site for a studio project. Industrial Design students take a downtown walking tour when studying both existing conditions and future potentials prior to embarking on a project to design street furniture. Students in the seminar, "Furniture as Fashion" were able to participate in a past Mercedes Benz New York Fashion Week by designing and building an indoor "glacier" to complement a runway at Milk Studio used by fashion company NUMBER:Lab. Digital Design students visit active design studios like 1st Avenue Machine or Ntrōpic and can participate in the local professional SIGGRAPH chapter to get closer to the work being currently done. Newark provides locations where freshmen students can practice their traditional drawing skills in their foundation level courses while sketching architecturally significant spaces and structures.
There are ALWAYS occasions for learning beyond the classroom at NJIT's School of Art + Design. More often than not, the opportunities are too numerous to be able to have time to avail oneself of everything available. There are also many one-off cases that may be unique to a faculty member, a course, a time or place in history. There are competitions to enter, places to visit, lectures to attend, research to perform and present, and so on. To get more information about these and other activities, and to see what goes on beyond the classroom, please take a moment to look at our newsletters which come out twice per semester. You may find the current issue and a link to past issues here.