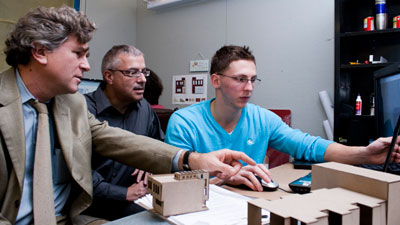 The College has offered design studios with
Habitat for Humanity
with very successful results. The goal of the "Box and Beyond Studio" was to develop a new house type for Newark's Habitat for Humanity chapter in a fourth year options studio in the five-year professional program. The project was the result of a collaboration of NJIT professor Darius Sollohub and Jak Inglese, a practicing architect with extensive experience in affordable housing. Throughout, students took a lead role in interacting with the outside parties that a professional architect would typically engage, collectively running all meetings, including those with Habitat staff, current owners of previous Habitat-built homes, the project's sustainability consultants, Newark city planners and the press. At the beginning of the studio, Jak Inglese pledged paid internships to the winning designer and runner-up to work during the winter break following the fall semester to complete the designs.
Habitat staff served as a "real" and engaged client, guiding the design process throughout.  They encouraged architectural and green innovations while steering students to maintain a strict budget and ensure constructability using Habitat's unique volunteer construction techniques. Habitat challenged students to overcome the monotony of both local developer-driven solutions and its own out-of-date designs. To meet these requirements, students estimated each project using Habitat's unit costs in Autodesk Revit software and substantiated all environmental claims using the ECOTECT computer program.
The semester began with a four-week research phase that established the project's conceptual, zoning, planning and environmental parameters. Each student began by examining a precedent for its potential relevance to affordable and sustainable housing in Newark. This was followed by student teams examining state-of-the-practice sustainable systems related to sustainable sites, water efficiency, materials and resources, and energy and atmosphere. This examination was done in close collaboration with COAD's Center for Building Knowledge. Parallel to this effort, teams developed all necessary background materials including a digital model, site information, zoning and building code searches and a physical site model.
The remaining eleven weeks of the semester followed a fast-paced review schedule focusing on design, systems, zoning and budget with key professional participation from various disciplines. After an early review, Habitat invited five families to consult with students to help troubleshoot the program and to offer recommendations regarding the specific programmatic needs of future residents.
The studio culminated in a final review, after which the Habitat property acquisition committee and Jak Inglese chose the winning design, the runner-up and the six projects to be recognized for identifying sustainability features that Habitat would consider in future projects.  A week later, the winners were announced at a reception hosted by NJIT president Robert Altenkirch and attended by community leaders, including the Newark's Councilman at Large, Donald Payne.