Bachelor of Arts in Interior Design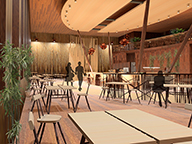 A significant portion of the nation's population lives and works indoors. Whether these inside spaces are newly constructed or carved out of existing building stock, the interior designer has a role. According to the US Bureau of Labor Statistics, the demand for interior designers is expected rise 13% between 2012 and 2022. Interior designers are involved in commercial, retail, hospitality and restaurant, healthcare, and residential projects – both single and multi-family. Many interior designers also work in associated industries that could range from furniture design and lighting design to the marketing of building products – and more. Moreover, interior design professionals will become increasingly important in understanding and enhancing ergonomic design, elder design, and environmental or "green" design – all of which contribute to an expanding market.
According to the National Council for Interior Design Qualification(NCIDQ), "Interior design is a multi-faceted profession in which creative and technical solutions are applied within a structure to achieve a built interior environment. These solutions are functional, enhance the quality of life and culture of the occupants and are aesthetically attractive. Designs are created in response to and coordinated with the building shell and acknowledge the physical location and social context of the project. Designs must adhere to code and regulatory requirements, and encourage the principles of environmental sustainability. The interior design process follows a systematic and coordinated methodology, including research, analysis and integration of knowledge into the creative process, whereby the needs and resources of the client are satisfied to produce an interior space that fulfills the project goals.
The College of Architecture and Design (CoAD) at NJIT is the only school in New Jersey to house interior design, architecture, industrial design, and digital design under one roof. Because the Interior Design lives together with these other design disciplines, our students have the opportunity to interact and form collaborative relationships with their design peers and learn from a faculty that participates in all phases of the design and construction process: interior designers, architects, engineers, and product/industrial designers. The Interior Design program at CoAD is studio-centric and immersed in the studio culture, with dedicated desks, and space given to all students following the Foundation Year.
Interior Design at NJIT is a four-year program leading to a Bachelor of Arts degree that is fully accredited by the Council for Interior Design Accreditation (CIDA). The first year curriculum is shared with the other Art + Design programs which provides a broad design foundation and instills a strong sense of community among Interior Design students and their peers in other design disciplines.
During their Foundation Year, students will be exposed to and expected to work in a variety of media. The curriculum includes design and graphics classes with digital and traditional media, color theory, art history, and general education courses such as math and English. Digital work will take place in dedicated Foundation Year Laboratories restricted to students enrolled in those classes, while work in traditional media will take place both in and out of class.
Freshman students are provided with 24/7 access to Foundation Year Labs when enrolled in those courses, and all design studios are accessible 24/7 throughout the semester. Along with the facilities available throughout the NJIT campus, Interior Design students have access to the Materials Library in Weston Hall and Fabrication Facilities including Shop and Laser Cutting Lab. Additional facilities (e.g. Art Teaching Lab, Physical Computing Lab, Animation Lab, etc.) are available to students who take elective or required courses in those assigned spaces.
In addition to six semesters of design studios, Interior Design students will take a variety of courses to prepare them for professional practice, including Building and Interior Systems, History of Furniture, Building Information Modeling, Contract Documents, and Human Factors/Ergonomics. An array of design electives is available in art or architectural history, traditional media art classes, and advanced classes in digital media.
New Jersey certifies Interior Design professionals separately from Architecture and students considering expansive future opportunities pursue both degrees: Interior Design at the undergraduate level at NJIT followed by a Master in Architecture degree as a first professional degree either at NJIT or elsewhere. The duration of the graduate program tends to be two to three years after receipt of the Bachelor's degree, depending on undergraduate preparation. Students interested in both professional degrees may focus elective and design elective coursework towards this goal. But the majority of students choose to work immediately following graduation and Interior Design graduates have an outstanding track record of success. More than 90% of all graduates are either working in a field related to their study or are in a graduate program within six months of graduation. With many available options in the Northern New Jersey/New York City metropolitan area, Interior Design students from NJIT have worked as interns during school and/or as full-time employees of a variety of firms that include Curious Yellow, Gensler, Laucerica Design, O'Neal Langon, Regar Inc., Rockwell Group, Snøhetta, Toys-R-Us, Wyndam Worldwide, and others.