Bachelor of Arts in Digital Design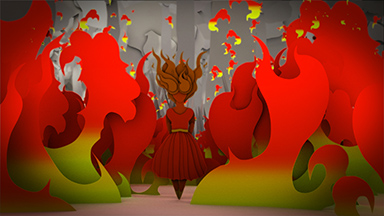 Digital Design 
is an evolving and exciting multidisciplinary field that underlies many of today's fast-growing industries, from web-based communications to advertising to entertainment. Applications of digital design can be seen in movies and television, magazine ads, video games, museum and trade show exhibits and of course, online. Today's designers must be entrepreneurs observing market trends, exploiting innovation, creating intellectual property, and applying aesthetic solutions to enhance the value of a product or service.
The Digital Design Program at the College of Architecture and Design provides students with the technical skills, creative opportunities and confidence to become leaders in a multitude of design fields. The program draws on the School's well-established legacy as a pioneer and innovator in the application of digital and information technology. Our students and faculty have and continue to publish and exhibit work worldwide, winning international awards for design visualization and the innovative application of information technology to design.
The four-year program of study leads to the Bachelor of Arts degree. The first year curriculum is a Foundation Year in which all students in the School of Art + Design take design courses together.
During their Foundation Year, students will be exposed to, and expected to work in, a variety of media from the very beginning of the program. The curriculum includes design and graphics classes with digital and traditional media, color theory, art history, and general education courses such as math and English. Digital work takes place in dedicated Foundation Year Laboratories restricted to students enrolled in those classes, while work in traditional media takes place both in and out of class.
Freshman students are provided with 24/7 access to Foundation Year Labs when enrolled in those courses, and all design studios are accessible 24/7 throughout the semester. Along with the facilities available throughout the NJIT campus, Digital Design students take courses and have access to the Cintiq-equipped Art Teaching Lab, Physical Computing Lab (used for robotic and sensor-based product design), and the Animation Lab. Digital and traditional fabrication facilities, especially laser cutters and 3D printing equipment are available in the College of Architecture and Design and are integrated in required and elective courses in physical computing, augmented reality, and robotics.
Following the foundation year, students select a particular track of study: the Entertainment track or the Interactive Media/Production track. Each track has a specific set of prescribed courses within the School of Art + Design and at other NJIT schools and colleges. In addition to a two-year studio sequence, the curriculum provides opportunities for students to take a variety of related classes such as environment design in motion pictures, SFX/VFX in movies, digital audio, history of games, video & animation, 2D and 3D character design and modeling, management, internet marketing, game level design, and more. There is additional flexibility built into the curriculum, allowing students to use free academic and design electives to either broaden their overall education or elect to focus on one or more areas to prepare them for a specialized field or graduate study. Although cited on multiple occasions by Princeton Review as a top program in which to study video game design, the degree is, in fact, a general one with game design as a subset of the program.
Digital design students have opportunities to showcase their work through competitions and curated exhibits, and a number have had work exhibited at the annual conference of ACM/SIGGRAPH, the international organization focusing on computer graphics and interactive techniques. With both faculty and student participation at the national and local levels of the organization, additional career and networking opportunities arise through participation in various SIGGRAPH programs. Students and graduates have enjoyed success with internships and full-time employment in a variety of specialties that include graphic design, game design, architectural and environment visualization, animation, web design, storyboard art, and more. Among the studios where NJIT students have interned or worked full-time are: 1st Avenue Machine, CSALAS & Co Labs, KWD – Kim Wendell Design LLC, Miskowski Design LLC, NTropic, SUSPECT vfx+design, SWDTech Games, and Tripwire Interactive. Additional students have followed their undergraduate careers by attending graduate programs in business and fine arts/animation.