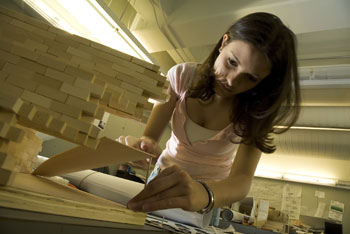 ​The total time needed to earn a Bachelor of Architecture degree (the first professional degree) at NJIT is five years. This degree is accredited by the National Architectural Accrediting Board (NAAB).
Bachelor of Architecture Degree Requirements
Licensing
The Bachelor of Architecture at NJIT is a first professional degree program which is fully accredited by the National Architecture Accrediting Board (NAAB). The curriculum fulfills the educational requirements of the Architectural Registration Examination (ARE), which professionals must successfully pass in order to employ the title "architect". The ARE is a fully computerized examination which is administered on an annual basis by the Architectural Registration Boards in each state. Students who receive their B. Arch. degree are eligible to take the ARE once they have completed an Internship Development Program (IDP). This internship is generally of three years duration, with some credit given for part-time employment.
Credit Distribution for Bachelor of Architecture Degree
| | |
| --- | --- |
| Required Architecture Credits | 96 |
| Architecture Electives | 15 |
| Free Electives | 9 |
| Rutgers Drawing Course | 3 |
| General University Requirements  | 41 |
|   |   |
| TOTAL CREDITS | 164 |
The minimum credit requirement for graduation is the successful completion of 164 credits of prescribed courses within the curriculum; and the maintenance of a 2.0 (C) average. Students are also required to maintain a minimum of a 2.0 studio cumulative average to advance to each succeeding year of studio.Students must take one upper level studio designated as comprehensive studio. All 100, 200, 300 level architecture core courses must be completed prior to enrollment in Arch 563, 564, and 565.